2020 TRB Annual Meeting
We exhibited our system at
2020 TRB Annual Meeting
in the USA.
Event Date: 12 - 16 January 2020 (Sunday to Thursday)
Venue: the Walter E. Washington Convention Center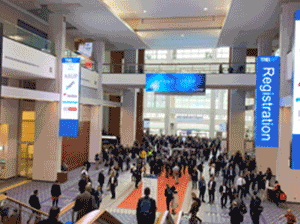 Thank you for coming.
The 8K video technology for the road infrastructure inspection works has begun!!
Outline
In 2018 three engineering companies; Shutoko Engineering Co.Ltd; Aeor Asahi Corp and AstroDesign Inc began to develop the InfraDoctor technology for the inspections of road infrastructure using 8K technology, which was the first in the world.
It was also the time that 8K video technology began to broadcast in Japan.
Technical development and demonstration test
On the 25th Nov 2018, a trial was conducted to detect cracks on the concrete walls in the tunnel of the Metropolitan Express by the 8K video system, developed by AstroDesign. The system was mounted on the MMS which was designed by Aeor Asahi Corp.
The result of the trial confirmed the system is able to detect cracks which are 0.15mm wide.
≫see detail
EXAMPLES